by Harry Nelson
The Supreme Court has weighed in, blocking implementation of the OSHA rule requiring all employers with 100 or more employees to require vaccination or weekly testing. Justice Kavanaugh explained the decision by expressing concern for the "significant encroachment into the lives—and the health—of a vast number of employees[,]" noting that vaccination was not addressing a workplace hazards so much as regulating a "universal" risk issue without regard for different work environments.
At the same time that the OSHA mandate (which would have affected 80MM+ people) will not take effect, other federal vaccine mandates – one for healthcare organizations and another for federal contractors, for example – are still in force, along with industry-specific mandates in a number of states. Yet many states have gone the other way, limiting the power of employers to impose vaccine requirements.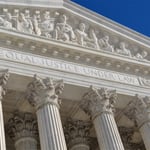 So what should employers be doing or thinking about now?
The answer varies from state to state. In California, for example, effective January 14, all non-healthcare employers are required "to establish, implement, and a maintain an effective written Covid-19 Prevention Program," including making testing available to staff at no cost and during paid time to employees exposed to Covid-19 (but asymptomatic), and requiring indoor masking. Other states have adopted similar requirements, making it critical for employers to check periodically for state-specific rules on prevention requirements.
Nationally, besides for CMS's vaccine mandate for healthcare workers—which the Supreme Court narrowly approved—OSHA continues to exercise its authority over healthcare workplace safety by instituting a number of requirements, including, among other things:
hazard assessment and implementation of a Covid plan for each workplace
workforce and visitor screening for Covid symptoms
indoor masking
cleaning, disinfecting, and making handwashing and sanitizer accessible.
Other ongoing requirements include spacing to maintain social distancing, HVAC system and air filtration requirements, training on Covid policies and procedures, and recordkeeping on Covid infections, hospitalizations, or fatalities. As a matter of risk management, employers should put plans in place to address these and other OSHA requirements, along with plans for the recurrent issues presented by Covid, such as handling employees with symptoms or who test positive, managing records of proof of vaccination, protecting employee privacy as to Covid infection and vaccination status, and managing requests for accommodations. We anticipate a continuing rise in employee litigation related to Covid, making implementation and enforcement of workplace safety requirements a worthwhile investment.
In the midst of the current surge, many employers continue to struggle with personnel shortages.
A tight labor market puts pressure on employers to refrain from terminating uncooperative employees and accommodating a wider range of views on polarizing issues: employees anxious about Covid risk wanting to continue working remotely and employees tired of restrictions; employees on all sides of the vaccine question; and questions about how much to test and "return to work" policies. In coming months, new data is likely to lead to a new definition of what it means to be "fully vaccinated". A shortage of workers is likely to drive a gentler approach of encouraging but not requiring worker vaccination.
In the end, the Supreme Court ruling should be read as an acknowledgment that we have arrived at a recognition, for better or worse, that contracting Covid is an "everyday risk," in Justice Kavanaugh's words, that everyone faces and everyone is likely to experience eventually. For most employers, 2022 will not bring mandatory vaccinations, but will nonetheless demand attention to federal and state regulatory requirements and to balancing competing needs from a distinct workforce.
Harry Nelson is the founder and managing partner of Nelson Hardiman, the leading healthcare and life science law firm in California. He can be reached at hnelson@nelsonhardiman.com